{ width: 312, height: 312, defaultImage: '000729226', layers: '000729226' }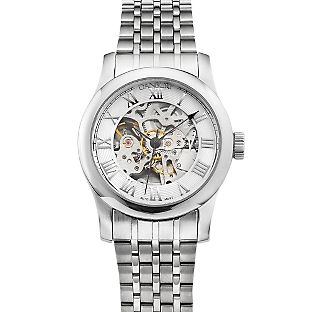 { altImage: '000729226' }

{ width: 48, height: 48, defaultImage: '000729226', layers: '000729226' }

{ altImage: '000729226_1_lg' }

{ width: 48, height: 48, defaultImage: '', layers: '000729226_1_lg' }

{ altImage: '000729226_2_lg' }

{ width: 48, height: 48, defaultImage: '', layers: '000729226_2_lg' }

{ altImage: '000729226_3_lg' }

{ width: 48, height: 48, defaultImage: '', layers: '000729226_3_lg' }
Guaranteed Christmas Delivery still available.
See below dates for details.
Back of Watch-Size: 1.8" x 2" x .5"

Back of Watch-Features: White dial skeleton wrist watch with a metal band and includes a wooden presentation box

Back of Watch-Warranty: 1 Year Limited

Back of Watch-Components: Wrist watch, presentation box

Presentation Box-Size: 5"x 4"x 2.75"

Back of Watch-Color: Silver, white

Back of Watch-Material: Brass, stainless steel

Presentation Box-Material: MDF

Presentation Box-Color: Black