{ width: 312, height: 312, defaultImage: '000716543', layers: '000716543' }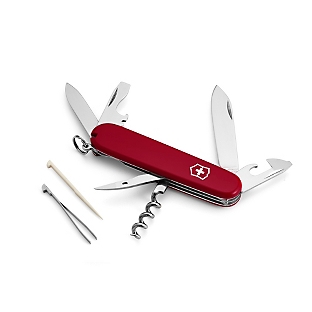 { altImage: '000716543' }

{ width: 48, height: 48, defaultImage: '000716543', layers: '000716543' }

{ altImage: '000716543_1_lg' }

{ width: 48, height: 48, defaultImage: '', layers: '000716543_1_lg' }

{ altImage: '000716543_2_lg' }

{ width: 48, height: 48, defaultImage: '', layers: '000716543_2_lg' }
Guaranteed Christmas Delivery still available.
See below dates for details.
Body-Warranty: Lifetime warranty

Body-Features: Swiss Army® pocket knife with 12 features: large and small blade, bottle opener with wire stripper and large screwdriver, can opener with small screwdriver, corkscrew, reamer, toothpick, tweezers, and key ring. Made in Switzerland.

Body-Components: Swiss Army® pocket knife, leather clip pouch

Body-Size: 3.5" x .75" x .75"

Body-Color: Red, silver, black

Body-Material: Cellidor handle, stainless steel, leather