{ width: 312, height: 312, defaultImage: '000756396', layers: '000756396' }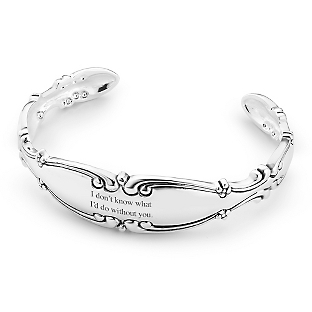 { altImage: '000756396' }

{ width: 48, height: 48, defaultImage: '000756396', layers: '000756396' }

{ altImage: '000756396_1_lg' }

{ width: 48, height: 48, defaultImage: '', layers: '000756396_1_lg' }

{ altImage: '000756396_2_lg' }

{ width: 48, height: 48, defaultImage: '', layers: '000756396_2_lg' }

{ altImage: '000756396_3_lg' }

{ width: 48, height: 48, defaultImage: '', layers: '000756396_3_lg' }
Delivery Dates:
---
Standard Delivery
---
Express Delivery
---
Express Plus Delivery
---
Next Business Day Delivery
Must place your order by 4:00 PM, EST
---
About Shipping Options
Bracelet-Care Instructions: Store jewelry in safe and dry place. Do not put jewelry on until after you sprayed perfume and hairspray. Avoid using cleaning product when wearing jewelry as this can dull the finish.

Bracelet-Color: Silver, black

Bracelet-Material: Silver plated metal

Bracelet-Size: 2.5" wide, adjustable

Bracelet-Features: Delicate design work. Adjustable to fit most sizes. Engravable on front.