{ width: 312, height: 312, defaultImage: '000701697', layers: '000701697' }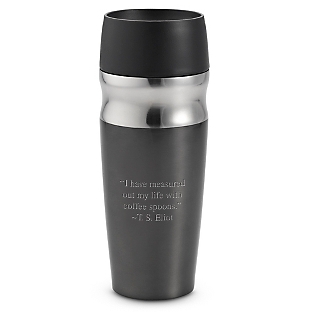 { altImage: '000701697' }

{ width: 48, height: 48, defaultImage: '000701697', layers: '000701697' }

{ altImage: '000701697_1_lg' }

{ width: 48, height: 48, defaultImage: '', layers: '000701697_1_lg' }
Guaranteed Christmas Delivery still available.
See below dates for details.
Front of Mug-Washing Instructions: Hand wash only using warm water and mild detergent. Use a soft cloth to dry.

Front of Mug-Features: Travel mug features a gunmetal stainless steel finish and can be engraved

Front of Mug-Color: Gunmetal, silver

Front of Mug-Capacity: 12 oz.

Front of Mug-Size: 8.25" height

Front of Mug-Material: Stainless steel