{ width: 312, height: 312, defaultImage: '000749002', layers: '000749002' }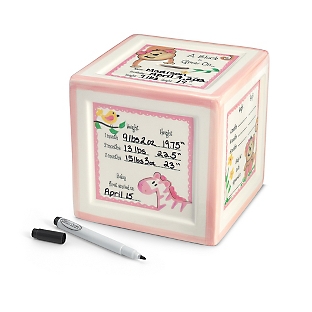 { altImage: '000749002' }

{ width: 48, height: 48, defaultImage: '000749002', layers: '000749002' }

{ altImage: '000749002_1_lg' }

{ width: 48, height: 48, defaultImage: '', layers: '000749002_1_lg' }

{ altImage: '000749002_2_lg' }

{ width: 48, height: 48, defaultImage: '', layers: '000749002_2_lg' }

{ altImage: '000749002_3_lg' }

{ width: 48, height: 48, defaultImage: '', layers: '000749002_3_lg' }

{ altImage: '000749002_4_lg' }

{ width: 48, height: 48, defaultImage: '', layers: '000749002_4_lg' }

{ altImage: '000749002_5_lg' }

{ width: 48, height: 48, defaultImage: '', layers: '000749002_5_lg' }
Delivery Dates:
---
Standard Delivery
---
Express Delivery
---
Express Plus Delivery
---
Next Business Day Delivery
Must place your order by 4:00 PM, EST
---
About Shipping Options
Bank-Size: 6"x 6"x 6"

Bank-Features: Ceramic penny bank. Record milestones including baby's first word, smile, steps, height and weight. Permanent marker included.

Bank-Material: Dolomite

Bank-Care Instructions: Wipes off easy with rubbing alcohol.