{ width: 312, height: 312, defaultImage: '000645889', layers: '000645889_10213' }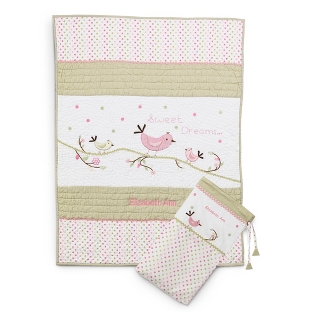 { altImage: '000645889_10213' }

{ width: 48, height: 48, defaultImage: '000645889', layers: '000645889_10213' }

{ altImage: '000645889_1_lg' }

{ width: 48, height: 48, defaultImage: '', layers: '000645889_1_lg' }

{ altImage: '000645889_2_lg' }

{ width: 48, height: 48, defaultImage: '', layers: '000645889_2_lg' }
Guaranteed Christmas Delivery still available.
See below dates for details.
Quilt-Material: 100% Cotton

Quilt-Color: Pink, green

Quilt-Features: Baby quilt features colorful birds on a branch embroidered on a quilt of various fabrics including polka dots and gingham. Includes a coordinating storage bag that can be embroidered.

Bag-Clasp/Closure: Drawstring

Quilt-Size: 46" x 36"