{ width: 312, height: 312, defaultImage: '000656917', layers: '000656917_10109' }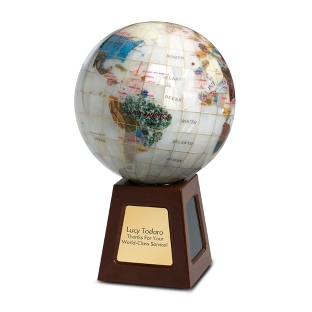 { altImage: '000656917_10109' }

{ width: 48, height: 48, defaultImage: '000656917', layers: '000656917_10109' }

{ altImage: '000656917_1_lg' }

{ width: 48, height: 48, defaultImage: '', layers: '000656917_1_lg' }
Guaranteed Christmas Delivery still available.
See below dates for details.
Mother of Pearl Solar Globe-Features: Mother of pearl globe spins powered by light. Due to limited space and the use of genuine gemstones that are hand cut and assembled it is not possible to show all countries and to show their names.

Mother of Pearl Solar Globe-Color: Gold, white

Mother of Pearl Solar Globe-Material: Mother of pearl