{ width: 312, height: 312, defaultImage: '000669302', layers: '000669302_10205' }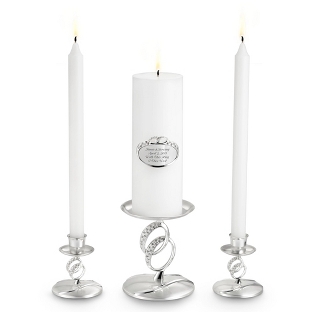 { altImage: '000669302_10205' }

{ width: 48, height: 48, defaultImage: '000669302', layers: '000669302_10205' }

{ altImage: '000669302_1_lg' }

{ width: 48, height: 48, defaultImage: '', layers: '000669302_1_lg' }

{ altImage: '000669302_2_lg' }

{ width: 48, height: 48, defaultImage: '', layers: '000669302_2_lg' }
Guaranteed Christmas Delivery still available.
See below dates for details.
Candle Plate-Features: Unity candle set features two taper candles, a pillar candle with engravable plate and a CZ-accented double rings stand for each candle.

Candle Plate-Material: Silver plated zinc alloy

Candle Plate-Color: Silver, white

Candle Plate-Size: 12.6" x 5.9" x 16.5"