{ width: 312, height: 312, defaultImage: '000769927', layers: '000769927' }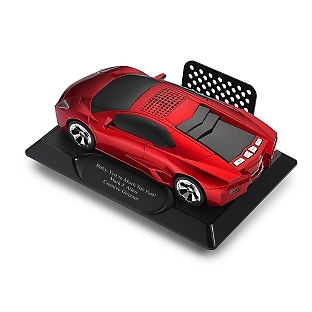 { altImage: '000769927' }

{ width: 48, height: 48, defaultImage: '000769927', layers: '000769927' }

{ altImage: '000769927_1_lg' }

{ width: 48, height: 48, defaultImage: '', layers: '000769927_1_lg' }

{ altImage: '000769927_2_lg' }

{ width: 48, height: 48, defaultImage: '', layers: '000769927_2_lg' }

{ altImage: '000769927_3_lg' }

{ width: 48, height: 48, defaultImage: '', layers: '000769927_3_lg' }
Delivery Dates:
---
Standard Delivery
---
Express Delivery
---
Express Plus Delivery
---
Next Business Day Delivery
Must place your order by 4:00 PM, EST
---
About Shipping Options
Car Speaker-Features: Car design. Able to play music from bluetooth, radio and usb. Adjustable volume.

Car Speaker-Color: Red

Car Speaker-Battery: Rechargable battery, connect to computer to recharge (cord included)

Car Speaker-Material: Plastic

Car Speaker-Size: 7.68"x 2.97"x 5.92"