{ width: 312, height: 312, defaultImage: '000334609', layers: '000334609_10109' }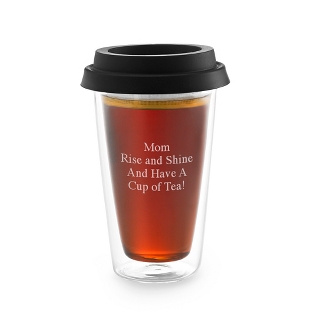 { altImage: '000334609_10109' }

{ width: 48, height: 48, defaultImage: '000334609', layers: '000334609_10109' }

{ altImage: '000334609_1_lg' }

{ width: 48, height: 48, defaultImage: '', layers: '000334609_1_lg' }
Guaranteed Christmas Delivery still available.
See below dates for details.
Front of Mug-Care Instructions: Hand wash only.

Front of Mug-Features: Travel tea mug with a removable tea infuser. Double walled construction allows for comfortable hands while keeping your drink warm.

Front of Mug-Color: Clear, black

Front of Mug-Size: 3.5" x 3.5" x 6.5"

Front of Mug-Material: Mouth blown glass, High Quality Silicone, stainless steel tea infuser