{ width: 312, height: 312, defaultImage: '000712767', layers: '000712767_10109' }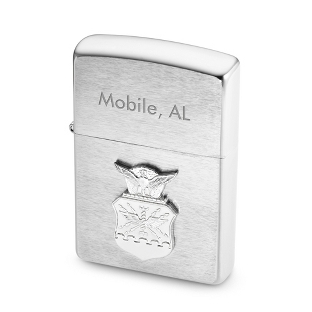 { altImage: '000712767_10109' }

{ width: 48, height: 48, defaultImage: '000712767', layers: '000712767_10109' }

{ altImage: '000712767_1_lg' }

{ width: 48, height: 48, defaultImage: '', layers: '000712767_1_lg' }
Guaranteed Christmas Delivery still available.
See below dates for details.
Front Lid-Refillable: Y

Back Body-Warranty: Lifetime warranty

Back Lid-Refillable: Y

Front Lid-Brand: Zippo®

Front Lid-Size: 2.25" x .88" x 3.25"

Front Lid-Color: Silver

Front Lid-Features: Brushed chrome Zippo® lighter with an Air Force emblem on front and features a windproof design.

Front Lid-Warranty: Lifetime warranty

Back Body-Refillable: Y

Back Lid-Brand: Zippo®

Front Lid-Material: Brushed chrome plated brass