{ width: 312, height: 312, defaultImage: '000665623', layers: '000665623_10109' }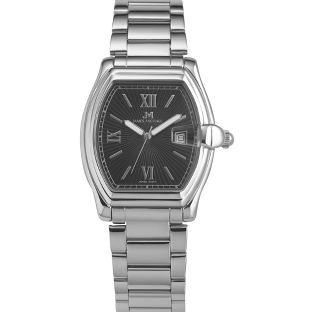 { altImage: '000665623_10109' }

{ width: 48, height: 48, defaultImage: '000665623', layers: '000665623_10109' }

{ altImage: '000665623_1_lg' }

{ width: 48, height: 48, defaultImage: '', layers: '000665623_1_lg' }

{ altImage: '000665623_2_lg' }

{ width: 48, height: 48, defaultImage: '', layers: '000665623_2_lg' }

{ altImage: '000665623_3_lg' }

{ width: 48, height: 48, defaultImage: '', layers: '000665623_3_lg' }
Guaranteed Christmas Delivery still available.
See below dates for details.
Watch Box-Material: MDF

Watch-Features: Watch features a stainless steel band and black dial with Roman numerals and date indicator.

Watch-Color: Silver, black

Watch Box-Color: Black

Watch-Battery: Included

Watch Box-Size: 5"x 4"x 2.75"

Watch-Size: Watch band is adjustable up tp 8.5" Dial: 1.95" x 1.8" x .47 "

Watch-Material: Stainless steel, brass

Watch-Warranty: 1 year