{ width: 312, height: 312, defaultImage: '000335423', layers: '000335423' }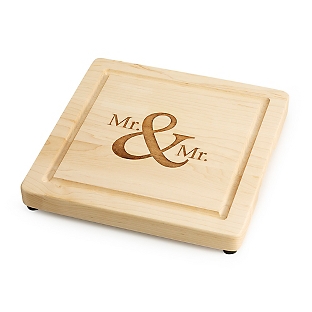 { altImage: '000335423' }

{ width: 48, height: 48, defaultImage: '000335423', layers: '000335423' }

{ altImage: '000335423_1_lg' }

{ width: 48, height: 48, defaultImage: '', layers: '000335423_1_lg' }
Guaranteed Christmas Delivery still available.
See below dates for details.
Back-Care Instructions: Clean with soap and warm water.

Back-Size: 12" x 12" x 1.5"

Back-Material: 100% Premium Hard Maple Wood

Back-Color: Mineral Oil finish

Back-Features: Mr. & Mr. maple wood cutting board sealed with butcher block conditioner. Made in USA.