{ width: 312, height: 312, defaultImage: '000775089', layers: '000775089_10218' }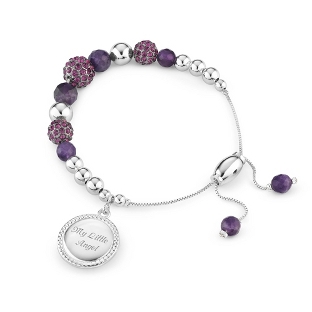 { altImage: '000775089_10218' }

{ width: 48, height: 48, defaultImage: '000775089', layers: '000775089_10218' }

{ altImage: '000775089_1_lg' }

{ width: 48, height: 48, defaultImage: '', layers: '000775089_1_lg' }

{ altImage: '000775089_2_lg' }

{ width: 48, height: 48, defaultImage: '', layers: '000775089_2_lg' }

{ altImage: '000775089_3_lg' }

{ width: 48, height: 48, defaultImage: '', layers: '000775089_3_lg' }

{ altImage: '000775089_4_lg' }

{ width: 48, height: 48, defaultImage: '', layers: '000775089_4_lg' }
Front of Charm-Care Instructions: Store jewelry in its original box or store separately so that it will not scratch other jewelry. To keep your stones their cleanest and brightest, remove when showering or swimming.

Front of Charm-Size: Adjustable

Front of Charm-Features: Adjustable lariat-style polished silver bracelets accented with silver polished beads, gemstones and pave encrusted beads that catch light and sparkle.

Front of Charm-Material: Brass, silver plate, imitation rhodium

Front of Charm-Color: Amethyst, silver

Front of Charm-Clasp/Closure: Lariat closure

UPC:

825008333666
SKU:

775089
Product Code:

167035