{ width: 312, height: 312, defaultImage: '000657819', layers: '000657819_10204' }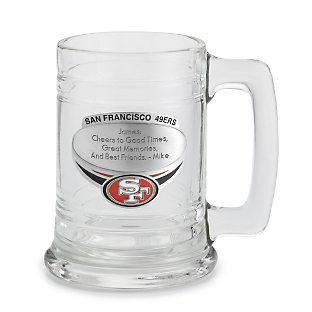 { altImage: '000657819_10204' }

{ width: 48, height: 48, defaultImage: '000657819', layers: '000657819_10204' }

{ altImage: '000657819_1_lg' }

{ width: 48, height: 48, defaultImage: '', layers: '000657819_1_lg' }
Medallion-Care Instructions: Hand wash. Do NOT use in dishwasher or microwave oven. Dry immediately with soft cloth or towel after washing. Do NOT put in freezer.

Medallion-Size: 3.5" x 3.5" x 5"

Medallion-Material: Glass, pewter

Medallion-Capacity: 15 oz.

Medallion-Features: Colonial style glass tankard with a medallion With your choice of NFL logo.

UPC:

825008216884
SKU:

657819
Product Code:

158984